Brno
Learn more about Brno! To make your stay as comfortable as possible, we even hired a local journalist and blogger to write a nice, dedicated guide for you:
ProTip™: In the early morning of Sunday 30th Oct, 3am will become 2am! The Czech Republic will transition from CEST to CET.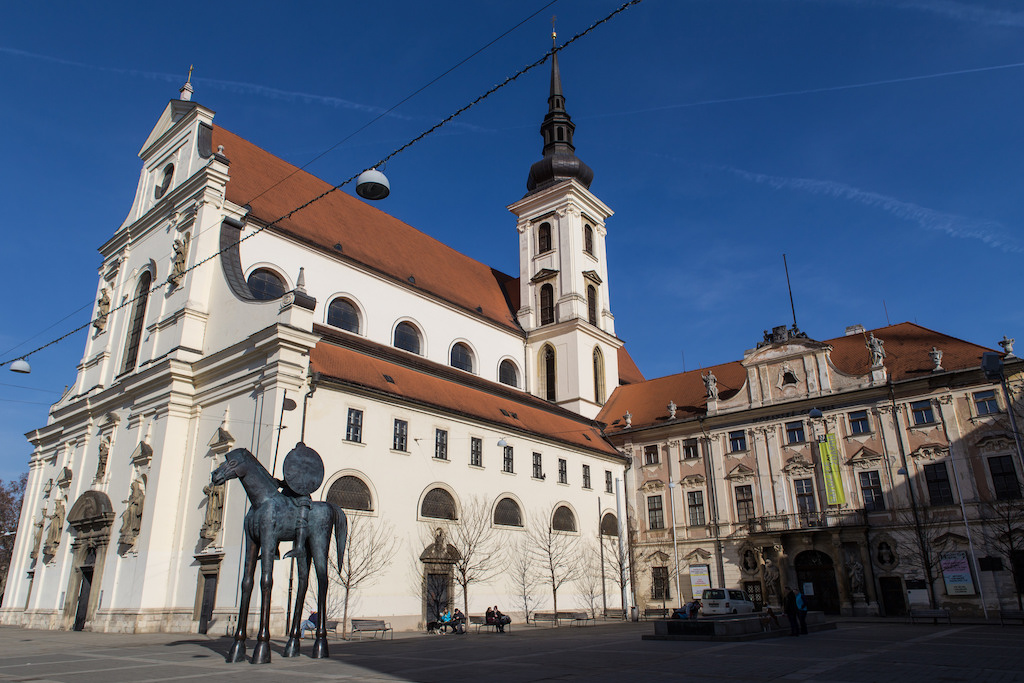 Statue of Jošt of Moravia. Photo by Carolien Coenen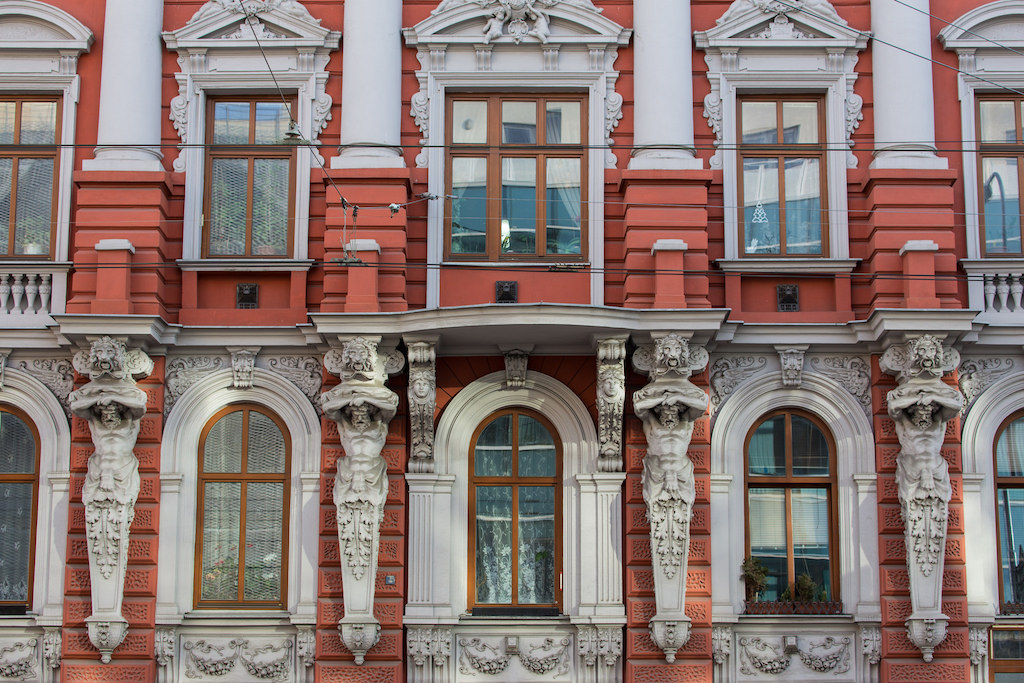 Historical downtown. Photo by Carolien Coenen
A short guide to Brno by Michal Kašpárek, local journalist and blogger
Listed among the top 10 of the best alternative city breaks in Europe by The Guardian and 52 Places to Go in 2016 by The New York Times, Brno is having its sweet moment right now: offering many great things to see and do, yet still not spoiled by tourism and commerce. You won't regret spending an extra day or two in the city.
Since the 1920s, Brno has been internationally recognized for its modernist architecture. In the 2010s, local cafés, restaurants and bars have attracted a country-wide attention and several exceptional works of art have been installed in the streets.
Frequently asked questions
Is Brno safe? Just like a city in any other middle-sized central European country. Don't leave your camera or computer on the back seat of a street-parked car and you'll be fine.
However, if anything goes wrong, call the emergency number 112.
Is Brno friendly? It is, just remember that many people are not used to speaking foreign languages. Saying "nerozumeem" is the simplest way of telling them you don't understand Czech.
How should I move around the town? Brno has an excellent system of public transport. To travel between FIT VUT (the venue where PyCon takes place) and the center of the town, tram line #1 is the best option. Fast bus lines #90 and #91 go that way from 10:30 p.m. to 4:30 a.m.
One hour tickets can be purchased for CZK 25 in yellow vending machines throughout the town; some of the machines located nearby the train station accept credit cards. The tickets are also available in most newspaper stands. A 24 hour ticket for CZK 90 may be useful, too. Owners of Czech SIM cards may also pay by sending a text message to 90206; its content can be "BRNO20" (20 minutes, CZK 20), "BRNO" (75 minutes, CZK 29) or "BRNOD" (24 hours, CZK 99).
Lidotaxi is one — not the only one — of well-established taxi companies: call (+420) 542 214 221. While Uber is not yet available in Brno, Liftago app provides a very similar experience.
Things to do just around the PyCon CZ venue
Although there will be enough food and coffee for every participant, you may fancy a short walk and some quiet time spent alone. PyCon CZ takes place at the Faculty of Information Technology (1 Božetěchova St) located in a former Carthusian monastery in Královo Pole quarter. Recommendable places within a 10-minute walk are:
In further 10 minutes (or in a 5-minute ride with tram #1 total) you may reach:
Some of the best restaurants, cafés and bars in downtown Brno
Lively Bar Na Stojáka. Photo by Dion Hinchcliffe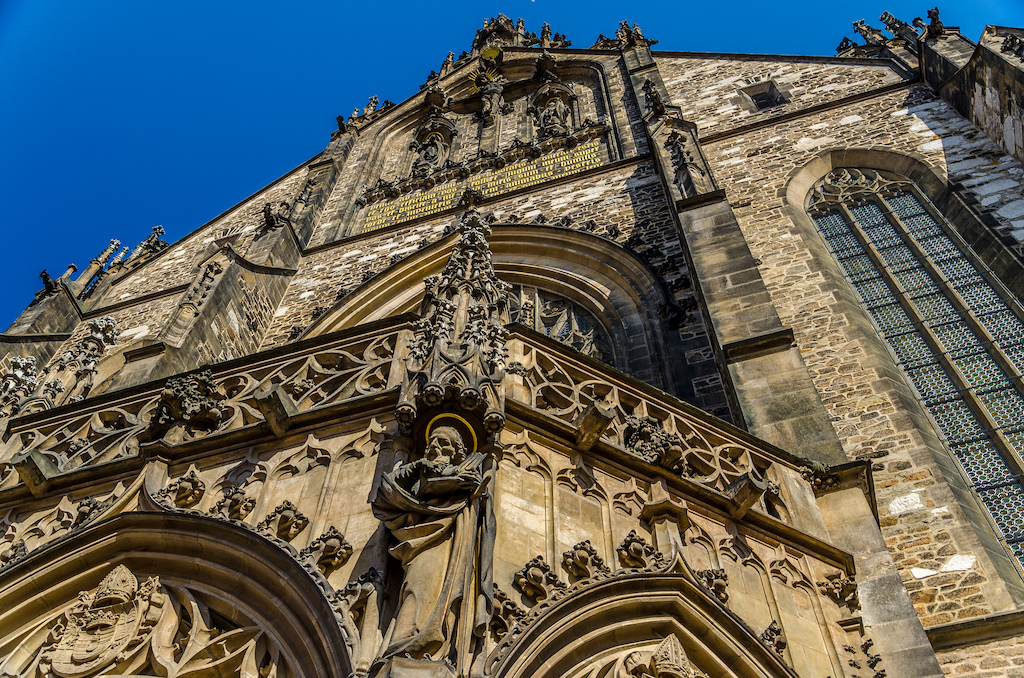 Cathedral of St. Peter and Paul. Photo by Daniel Kakiuthi
Cool stuff to see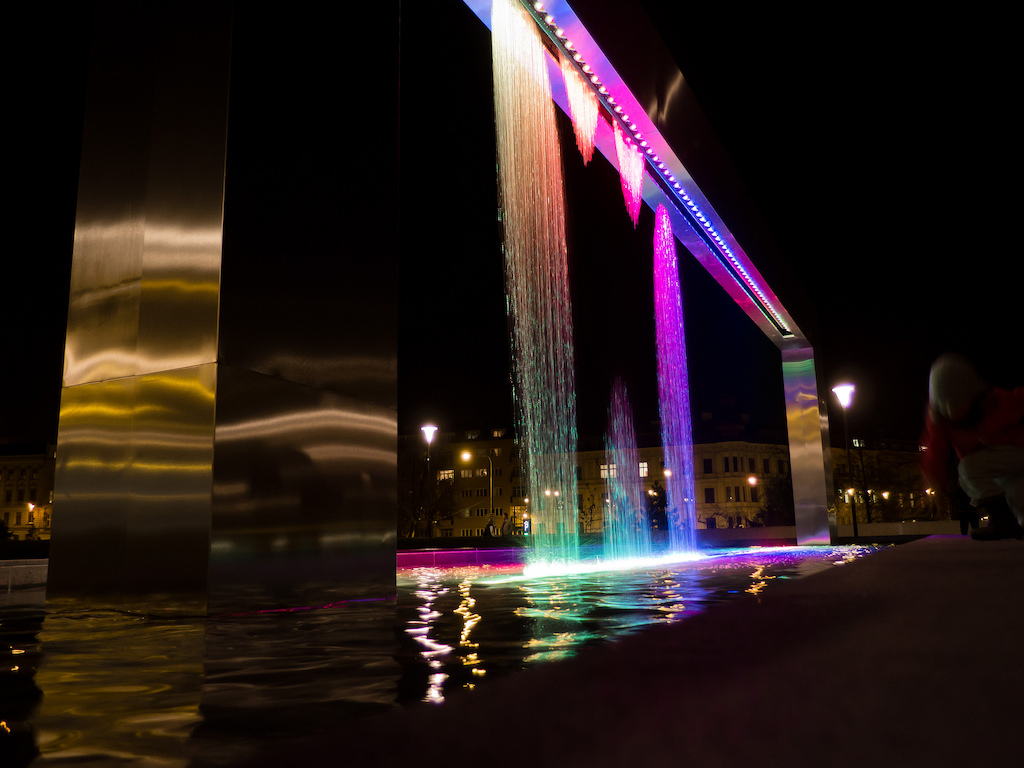 Fountain in front of Janáček's Opera. Photo by Janovlk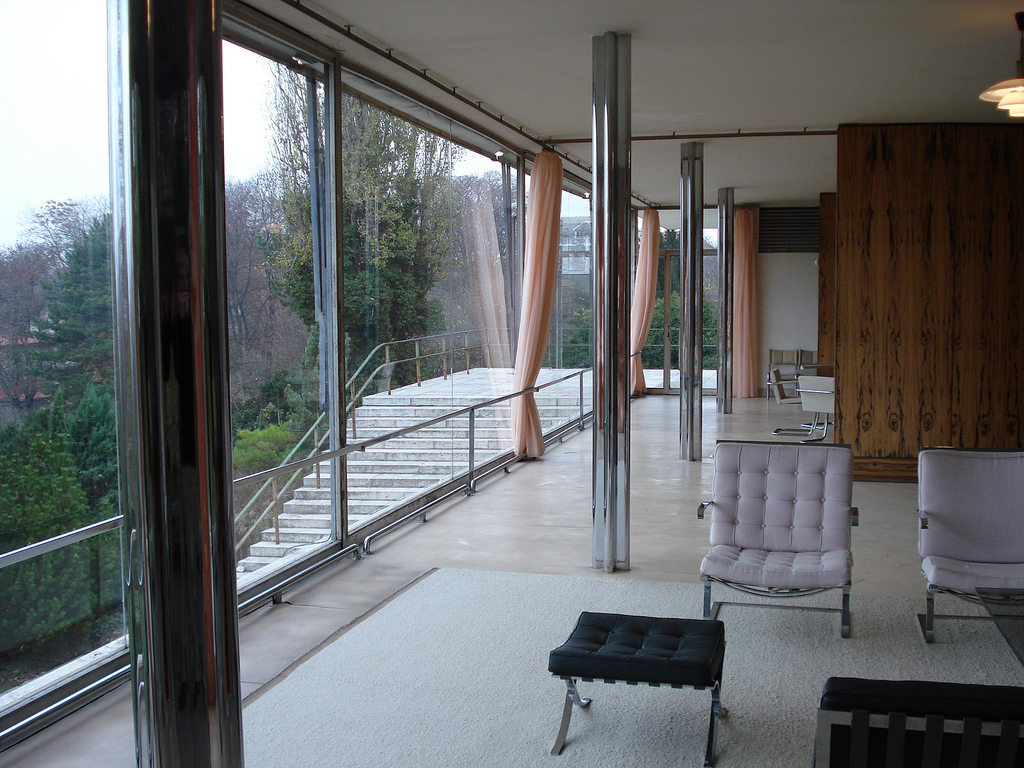 Villa Tugendhat. Photo by Timothy Brown
Map for Young Travellers by USE-IT
USE-IT maps are paper tourist guides for young people, from young people. Made by locals, no-nonsense, non-commercial, free, and up-to-date. USE-IT map of Brno is very well maintained and PyCon CZ highly recommends you to get one!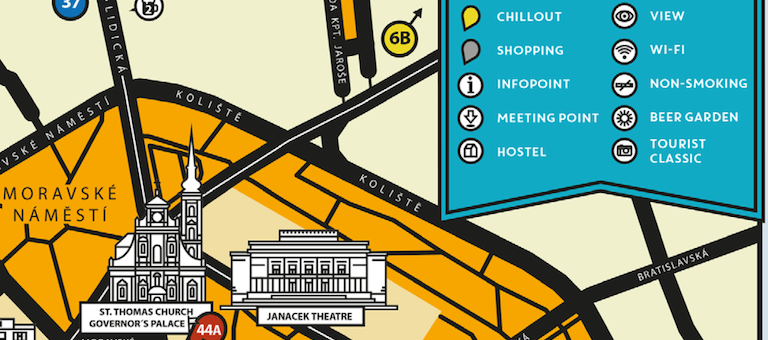 You can get this map for free at various places in Brno.
How to get to Brno?
Flight
Unless you're from London, Munich, or Eindhoven, do not fly to Brno (BRQ). It's not convenient and usually very expensive. However, if you by any chance end up at this small airport, enjoy its modern architecture and take bus #76 to the city center.
Accessing Brno through Vienna or Prague is fast, comfortable and cheap:
Small Bratislava airport is RyanAir hub, so it might be useful when hunting cheap flight tickets within Europe. There are also tiny international airports in Ostrava (Paris, London) and Pardubice (Saint Petersburg, Moscow). Both have an excellent connection to Brno either via bus or train.
Train
Bus
Car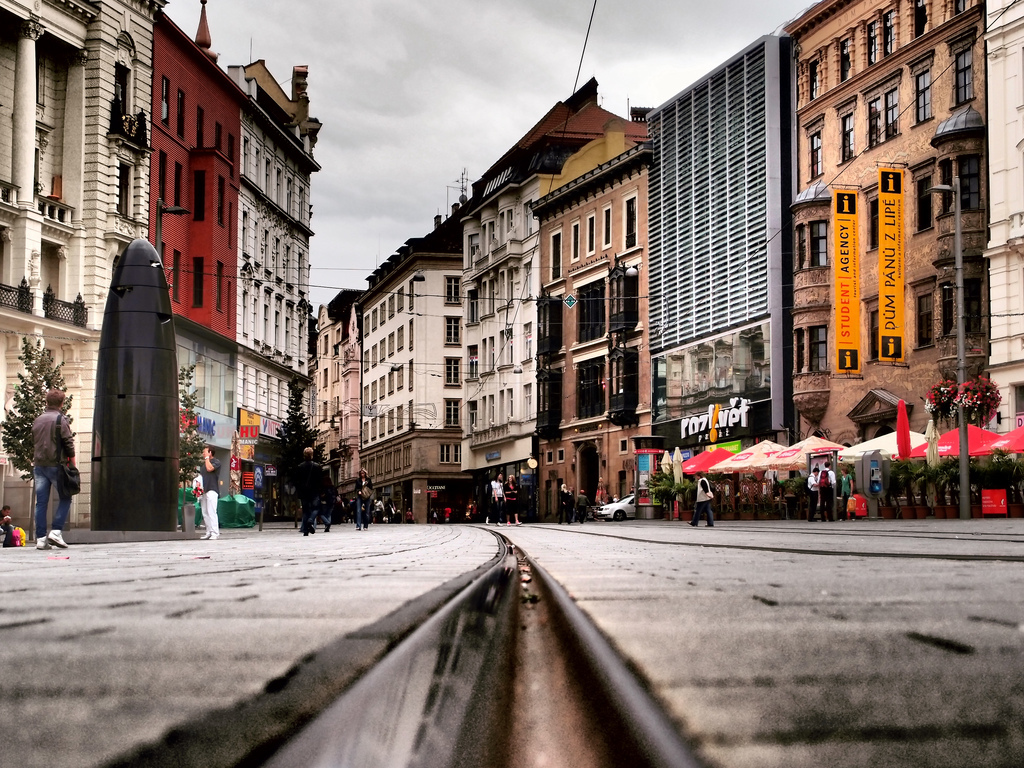 Náměstí Svobody Sq. and its phallic astronomical clock. Photo by VnGrijl
Accommodation tips
Hotel Avanti **** is offering a discount for all attendees of PyCon CZ 2016. Just let the receptionist know you attended PyCon CZ 2016 and they'll give you a reduced price offering for your stay. For classic, single room it will be CZK 1300 per night.
Otherwise, both Airbnb and Booking.com are at your service in Brno. For adventurous minds, there's always also CouchSurfing. Other options nearby the venue:
Except for Hotel Avanti ****, PyCon CZ 2016 has no agreements with and is not associated with any of the hotels above. They're sorted by perceived budget requirements and distance from conference venue.
The Czech Republic
Never been to the Czech Republic? Here's some practical info: